Print of the Month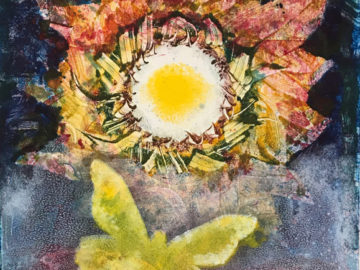 About The Artist
Morton Kaish
Morton Kaish is an American artist whose paintings, drawings and prints can be found in major museums, including the Metropolitan Museum of Art, the Smithsonian American Art Museum, the Fitzwilliam Museum and the British Museum.
Kaish's light and color-filled works have been exhibited nationally and internationally. Notable exhibitions include the Hollis Taggart Galleries and Staempfli Gallery in New York City, the Museum of Fine Arts in Boston and the American Cultural Centers in Jerusalem and Rome.
Critics have noted Kaish's powerful ability to combine traditional and experimental painting techniques with contemporary insights, and reviews of his work can be found in The New York Times, The New Yorker, The Christian Science Monitor and TIME, among many other publications.
Kaish is Professor Emeritus in the School of Art and Design at FIT/SUNY, and has served as Artist-in-Residence at Dartmouth College; the University of Washington, Seattle; Haifa University, Israel, as well as on the faculties of the New School, the National Academy and the Art Students League of New York.
…..Read More..
---
About the Artwork
Morton Kaish's light and color-filled works combine both traditional and experimental painting techniques with contemporary insight. His paintings are inspired by a passion for the world around him, which he continues to explore in a diversity of mediums. The "Print of the Month" highlights a featured print, and the links under the "Paintings" tab highlight Morton's key painting series. Learn more about the inspiration behind each series by visiting "About the Artwork."